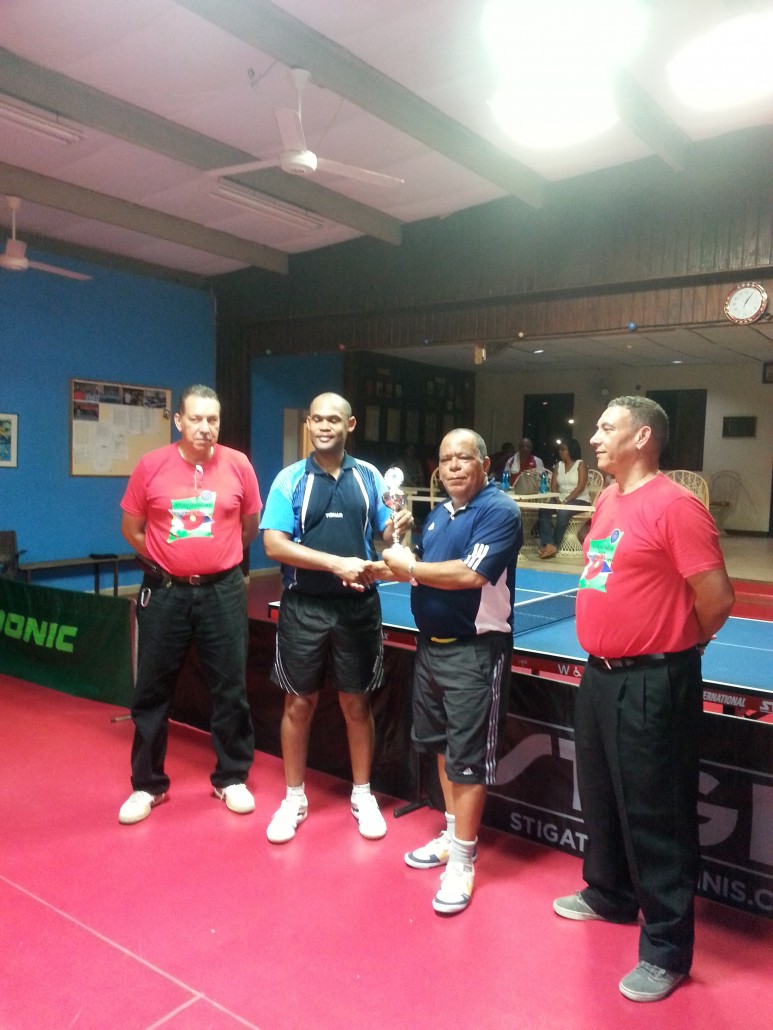 In tremendous fashion Oscar Salas Tournament took place last Tuesday May 5th in Sala Irene Moreno in Muizenberg. It was the 5th event, valid for the ranking 2015.
15 players did participate with the presence of almost all the contenders for the nomination at the end of the year of Player of 2015. A special note herby was the come back of Eldred van den Hout in our local tournaments. Eldred, a former champion of Curacao during several years, had participated last in November with the Master Invitational, where he played the final against Ron van Spanje from Holland. Thereafter he was acting most of the time as the trainer and coach of Sigmar Carmelia.
In the quarter final Eldred met Jaysron Mathilda, who did won 2 tournaments valid for the ranking lately and had moved to the 2nd place passing Sigmar Carmelia by the small margin of 1 point. Jaysron played his game very keen and although Eldred put in all his experience, he could not stop Jaysron from winning the match 3-2.
The other scores in the Q-final were:
Henny Metry – Rouchel Hernandez 3-0
Dimitri Leon – Ronald Vos 3-0
Sigmar Carmelia – Eric Adamus 3-0
In the semi final we had the match between Dimitri Leon and Henny Metry, which normally used to be pretty often a final match. Dimitri with his disappointed 4th position on the ranking came decided to fight his number one ranked opponent. Dimitry- Henny 4-1 in this best of 7 match.
The other best of 7 semi final scores:
Sigmar Carmelia _ Jaysron Mathilda 4-3, after being behind 1-3;
In the final game Sigmar Carmelia did not give Dimitri Leon any chance to use his weapons and won in a convincing way the match 4-1.
With this results the ranking is becoming very interesting, whereby only 2 tournaments more to go this year valid for the ranking 2015. These are the FTMK tournament next month and the Curacao National Championship in November.
The current ranking is as follow for the first 3 position:
Henny Metry                88 points
Sigmar Carmelia         83 points
Jaysron Mathilda       78 points
Comments
comments
https://www.cttb.net/wp-content/uploads/2015/05/20150507_230723-e1431354680736.jpg
3264
2448
Napi Boekhoudt
http://www.cttb.net/wp-content/uploads/2015/02/ftmk-cttb-logo.png
Napi Boekhoudt
2015-05-11 14:48:17
2015-05-11 14:48:17
Sigmar in big fashion in Oscar Salas Tournament