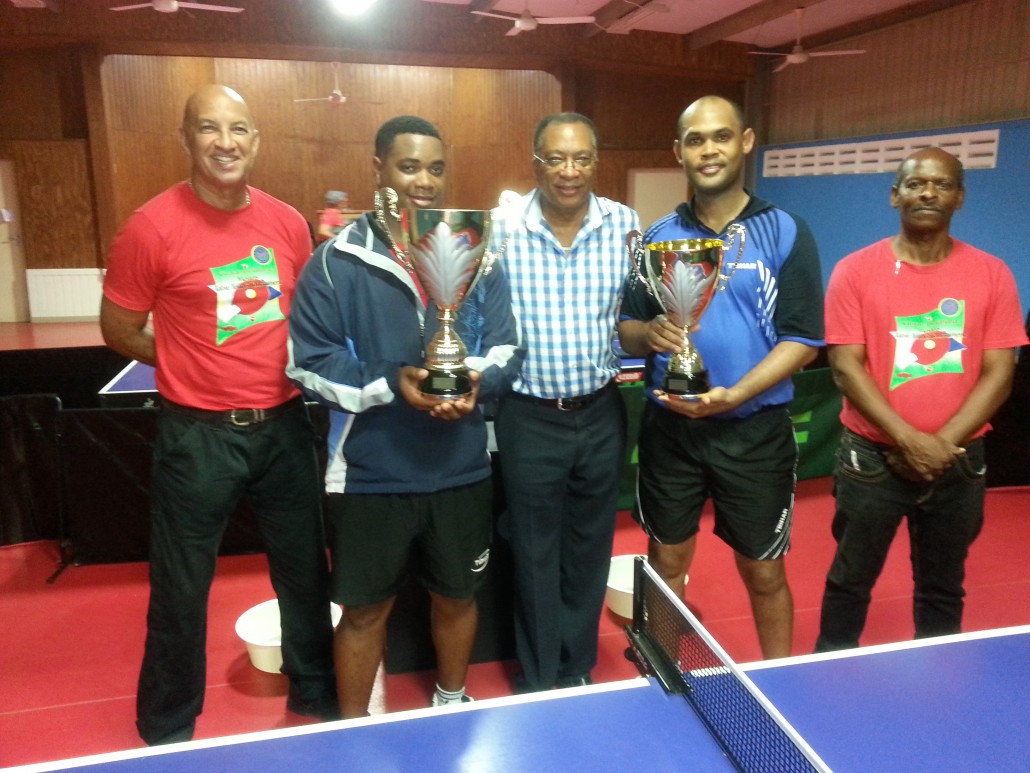 Last Tuesday May 12th, it was the night of the truth. On initiative of Sentro di Bario Sta Maria within the celebration of her 55th anniversary an event was presented whereby the top gunners among the table tennis players on Curacao had to demonstrate who will be the best.
A lot of speculation was hanging in around in a highly tensioned atmosphere, whereby the herb was good to smell. In a demonstration of very good level table tennis 10 players among them Erik van Veenendaal, the champion of our neighbor island Bonaire, was present. From St. Martin we had the young Begina, son of Raymond Begina, as well.
The battle started with two groups of 5 players each. Among the excited games in the preliminary round should be mentioned the confrontations between Ronaldi Vos against Erik van Veenendaal and Gregory Begina both won by Ronaldi 3-2 and the confrontation between Henry Metry and Erik van Veenendaal won by Henny 3-2 and Sigmar Carmelia and Dimitri Leon won by Sigmar 3-2. Especially this last one was surrounded by a lot of firework due to the intensity delivered by these 2 players.
In the semi final 4 players were left: Jaysron Mathilda, Eldred van den Hout, Henny Metry and Sigmar Carmelia. Jaysron was decisive and won his game against Eldred in a convincing way 4-2. With the other leg between the former number one Henny Metry and the second ranked Sigmar Carmelia it was spectacular. Long rallies, good defense and using both their experience Sigmar won 4-3 and placed himself in the big final against Jaysron.
It was finally Jaysron night. The previous game had apparently taken too much from Sigmar. In a very easy way Jayrson won 4-0 and received the big trophy from his father Franklyn Mathilda, president of Sentro di Bario Sta Maria. The federation was very pleased with this initiative, which resulted in a show case for our sport.
Comments
comments
https://www.cttb.net/wp-content/uploads/2015/05/20150513_004035.jpg
2448
3264
Napi Boekhoudt
http://www.cttb.net/wp-content/uploads/2015/02/ftmk-cttb-logo.png
Napi Boekhoudt
2015-05-21 03:29:12
2015-05-21 03:29:12
Jaysron Mathilda the champion among the top ranked players