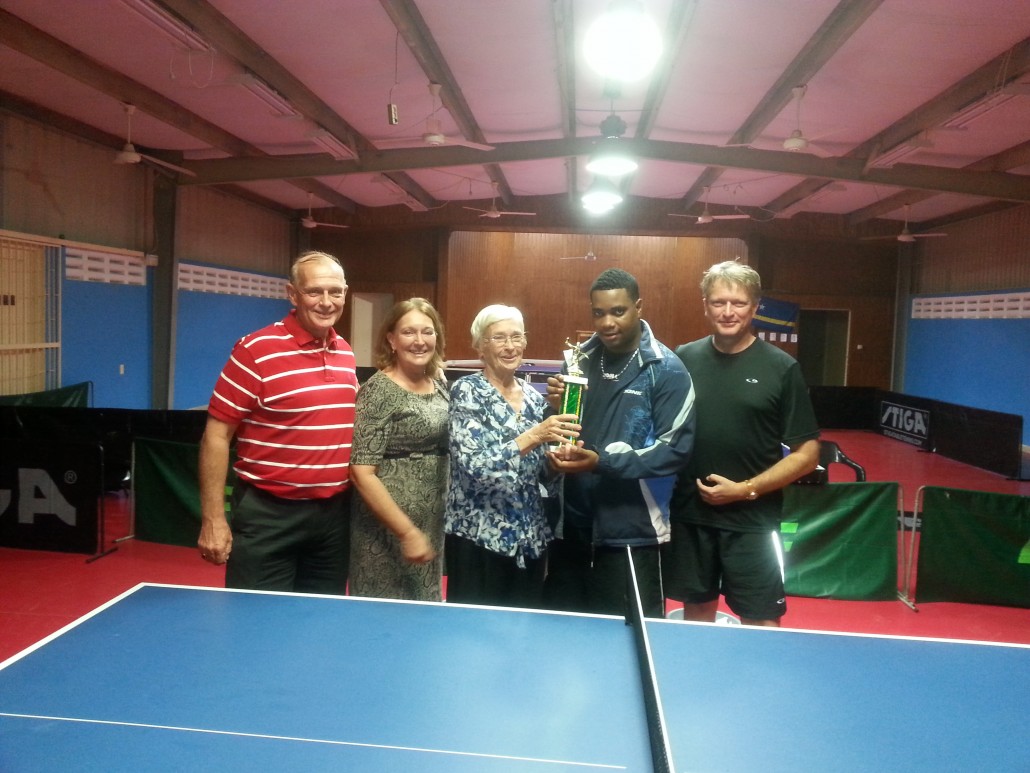 Date: March 31st 2015
With a participation of 20 players in this prestigious Harry Walters Cup 47 games have been played on one night, which should be a record for the last decade if not ever in our 60 year of existence.
Harry Walters R.I.P. was for almost a decade (1961 – 1970) president of our federation. As a kind of appreciation the family put every year prices available for a tournament under his name: Harry Walters Cup.
At 20.00 the games starts in 4 groups of 5 players, whereby some of our junior players as for them the Eastern Holiday will start the next day. Nasir Ignacio was one of them who a played with a lot of guts and was not intimidated by the experienced players. It was an open tournament for men individual.
With great satisfaction the federation can look back at what kind of game level the event was presented.
After the first 40 games in the preliminary we got the following Quarter Final:
Henny Metry vs Sigmar Carmelia 3-0 (11-6, 11-2, 11-5)
Dimitri Leon vs Jacinto Zimmerman 3-1 (11-2, 11-4. 16-18, 11-7)
Hensley Wentwoord vs Ronaldi Vos 3-1 (11-6, 12-10, 9-11, 11-5)
Jaysron Mathilda vs Lucien Alberg 3-0 (11-3, 11-0, 11-5)
Semi Final
Henny Metry vs Dimitri Leon 3-2 (14-12, 6-11, 11-9, 4-11, 11-8)
Jaysron Mathilda vs Hensley Wentwoord 3-0 (11-5, 12-10,11-8)
The game between the two rivals Henny against Dimitri was like it was expected. Last year in the Harry Walters Cup it was Dimitri, who won the final from Fuyang Zhen. However this time was a complete different ball game, playing Henry.  The match was very exciting as the scores indicate.
Jaysron had it very easy against Hensley and it was obvious that this might be his night.
The Final
Jaysron Mathilda won convincingly of Henny Metry 3-2 (6-11, 11-6, 4-11, 11-9, 11-5). It looks like Henny was completely exhausted after his match against Dimitri. He was sharp the whole night but you could see that the condition played a role at the end. By the other hand you cannot take away the merits' of Jaysron who was in great shape.
As this tournament is for ranking this result is going to make it very interesting this year.
Comments
comments
https://www.cttb.net/wp-content/uploads/2015/04/Jaysron-kampeon.jpg
2448
3264
Napi Boekhoudt
http://www.cttb.net/wp-content/uploads/2015/02/ftmk-cttb-logo.png
Napi Boekhoudt
2015-04-01 15:19:04
2015-04-01 17:28:06
Jaysron Mathilda Winner of Harry Walters Cup