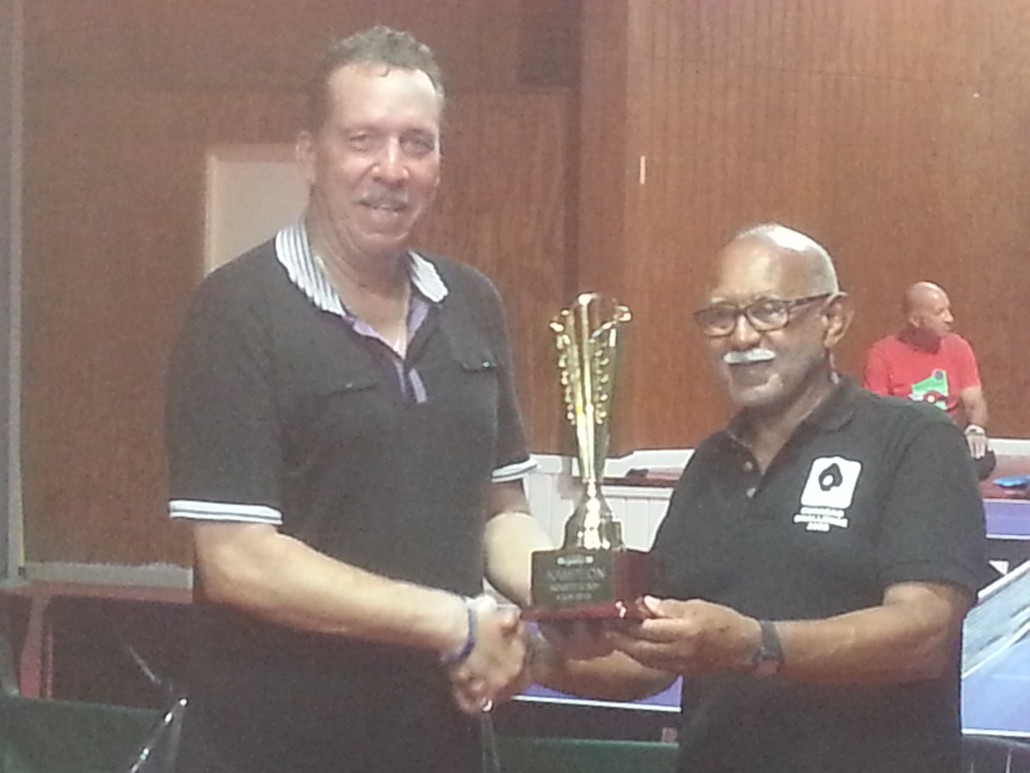 Last Thursday, June 4th we had the Master 50+ tournament. At 8.00 p.m. it started with participation of 14 players. They were scheduled in 4 groups of 4 players, whereby 2 groups were completed with a bye. Starting with the preliminary there were some very interesting confrontations, whereby all 5 sets had to be played: Jacinto Zimmerman vs Rouchel Hernandez 3-2; Rouchel Hernandez vs Dik Hendriks 3-2 and Eric Adamus vs Hensley Wentwoord 3-2. Raymond Begina, Eric Adamus, Hensley Wentwoord and Jacinto Zimmerman reached the semi final. This was played with 2 very excited games: Raymond Begina vs Eric Adamus 3-2 and Hensley Wentwoord vs Jacinto Zimmerman 3-2.
In the final match between Hensley Wentwoord and Raymond Begina these players gave a demonstration of two real old timers. In a very exciting game Hensley started very strong, taking a lead in sets of 2-0. Raymond fought back and tied the game in 2 sets. From there on it became a head to head race, whereby finally Hensley won by the small margin of 11-9.
The trophies were handed by Frank Mac Cleod, who has been for a very long time trainer and board member of the federation. Frank Mac Cleod was the leader of Tornado years ago as well and had been very significantly for table tennis on Curaçao.
Comments
comments
https://www.cttb.net/wp-content/uploads/2015/06/20150605_000448.jpg
2448
3264
Napi Boekhoudt
http://www.cttb.net/wp-content/uploads/2015/02/ftmk-cttb-logo.png
Napi Boekhoudt
2015-06-06 15:40:15
2015-06-06 15:40:15
Hensley Wentwoord defeated Raymond Begina in the Master 50+final