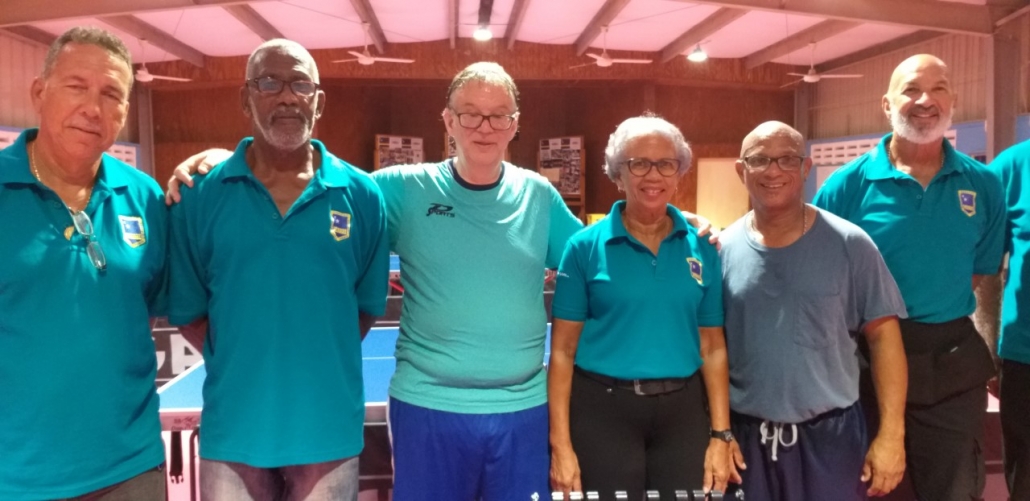 February 26th, Curacao Table Tennis Association had its second tournament of the year. It was a B-class tournament under the name Rapid Tronic.
With a participation of 13 players, the qualifying matches were played first. Of the 4 groups formed, the best 2 of each group passed to the next round. From the quarter finals a very exciting course in the matches was notable and the audience could enjoy one of the best tournaments in this category in recent years. In the semi-finals, none of the last 4 players, Dik Hendriks, Gio Silonero, Glenn Aniceta and Russell Lasten, could be called as favorites. They were all evenly matched. Dik won a 5-setter from Russell after trailing 2-0, while Gio also had a tough time against Glenn. Glenn brought this game to a 2-2 tie. However, Gio was firm in his game and won bravely the last set 11-9.
In the final, Dik had a hard time against Gio. Dik had already finished a 5-setter twice in the previous games and clearly suffered from this. Gio started aggressively and won the first set 11-5, but Dik tied the score with a 11-7 win. Gio took the 3rd set again and in the 4th set it became a complete drama. Dik did everything to come back, but had to see how Gio finally won 17-15 to win the final match 3-1.
Comments
comments
https://www.cttb.net/wp-content/uploads/2020/03/umpire-ku-finalistanan.jpg
622
1280
Napi Boekhoudt
http://www.cttb.net/wp-content/uploads/2015/02/ftmk-cttb-logo.png
Napi Boekhoudt
2020-03-18 02:37:07
2020-03-18 02:44:09
Giovanny. the champ of the Rapid Tronic Tournament