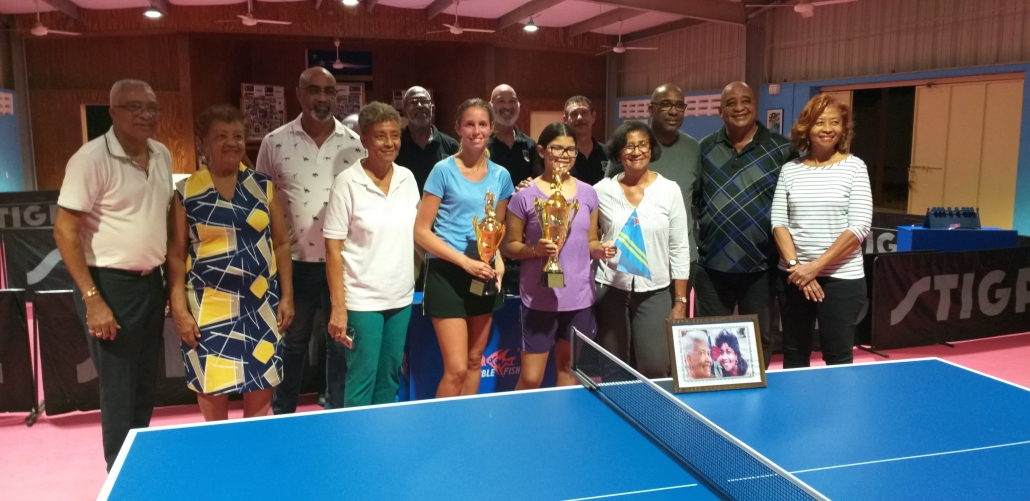 During the weekend February 7-8th, a tournament was organized by the Federation together with Sentro di Bario Sta Maria in connection with her 65th anniversary. under the name Donic Tournament. This tournament was also dedicated to Chaleco and Alice Davelaar. The Friday was a Men Open competition, whereby Chaleco was placed in the limelight and Saturday was a Female Open with the memory of Alice Davelaar, a several national champion in the past, who passed away last year.
On Friday with participation of Aruba with 2 players a total of 16 players started a round robin system with 4 groups of 4. In the final our Dimitri Leon won this final match 3-0 of Ching Ho from Aruba.
Saturday, from the start it was very predictable that the 2 biggest favorites will be Julia Janssen representing Curacao and Josilienne Boekhoudt from Aruba. These 2 players had no full-fledged opponents and went to the final. This final match was worth watching. Josilienne took the first two sets.
However, Julia fought back and made it 2-2 after 4 sets. In the last set it was very exciting, especially when the score at some point on the board was 10-10. Both players had their chance to take the game to themselves, but in the end it was Josilienne Boekhoudt, a player of only 14 years old, who managed to win the title.
Comments
comments
https://www.cttb.net/wp-content/uploads/2020/03/dames-scaled.jpg
1244
2560
Napi Boekhoudt
http://www.cttb.net/wp-content/uploads/2015/02/ftmk-cttb-logo.png
Napi Boekhoudt
2020-03-18 02:31:35
2020-03-18 02:43:15
Dimitri took the men's title while Josilienne the female one