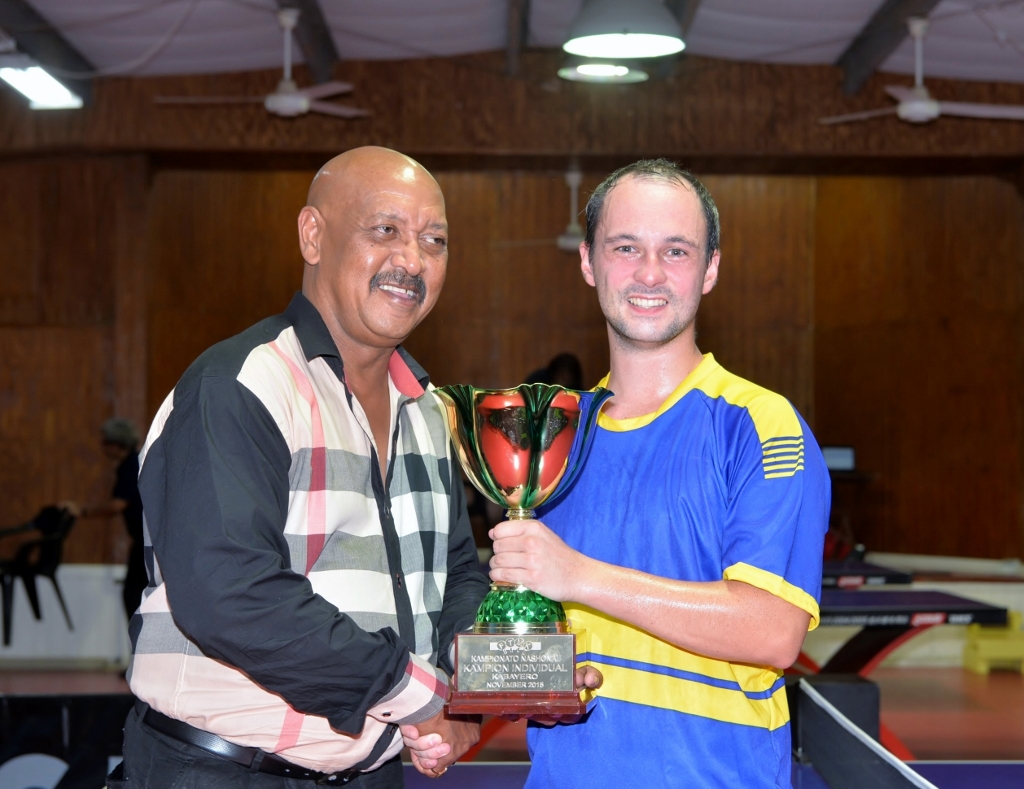 Friday, November 22nd 2015 was the Final Day of our National Championship. Starting with the program at 18.00, whereby the Curaçao hymn was presented the categories U11, U15 and U17 started with their finals. Yazir Anthony, Jean Claude Hoek and Riordan Ilario won their matches in the respective categories with no problem. After the trophies were presented to the finalist the program proceeded with the categories of the women and the mix double. To be mentioned that Mary Ann Macleod won her both final matches, namely the single event and the mix double with Jaysron Mathilda. The double event women was won by the couple Daniella Genaro and Cyrella Rosalia. The double event men became a very interesting matchup between Devon Meilink / Michael Dalnoot against Dimitri Leon / Ronaldi Vos. The couple Meilink/Dalnoot forming part of the team Perfect Bartenders won easily this final event. The winner(s) in these 4 categories got their trophies and gold medal , while the silver medals were handed over to the other final contenders.
A short break was introduced in this final program to bring Luthson Isenia in the spotlight. Like already informed this National Championship was honored to him as 40 years ago to be exact he won the Curaçao title for the first time at a very young age still as a teenager.
At around 10.00 pm it was the Master time. The table was set for 2 old timers: Ronaldi Vos and Raymond Begina. It became a very easy night for Ronaldi Vos, giving Raymond no chance at all to get his rhythm.
At last we got the final of our top players. The match everybody was waiting for. There were high expectations and nobody could make any predictions. However Devon Meilink surprisingly brought this final to an unexpectedly quick end by defeating Jaysron Mathilda in 4-straight sets and crowned himself as the Curaçao Champion for the first time.
Comments
comments
https://www.cttb.net/wp-content/uploads/2015/12/Tafel-Tennis-130-1024x789.jpg
789
1024
Napi Boekhoudt
http://www.cttb.net/wp-content/uploads/2015/02/ftmk-cttb-logo.png
Napi Boekhoudt
2015-12-08 00:11:06
2015-12-08 00:11:06
Devon Meilink won the Curaçao title 2015