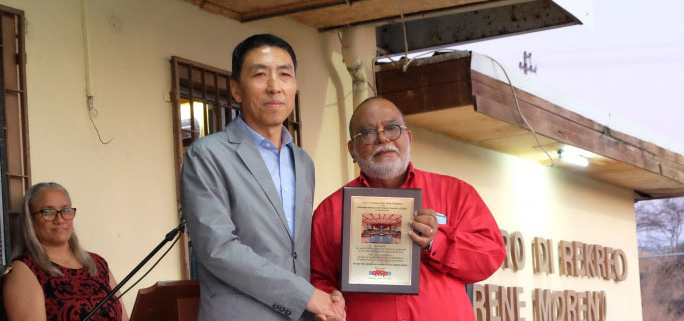 The Curaçao Table Tennis Federation is commemorating 35th anniversary of its complex, Irene Moreno. It has been in need for facilities update for a long time. Last year, the Chinese Consulate donated the sustainable renovation project for the complex, including higher quality vinyl flooring, LED lights system, match tables and training equipment, in order to promote the development of table tennis sport thus benefit the health of Curaçao people.The history of table tennis exchange with China is as long as the federation itself. In 1973, Curaçao and Aruba table tennis athletes went to Beijing to compete with athletes from more than 80 countries. The old group photo was a big surprise for the Chinese Consul General Mr. Zhang Weixin when he first visited the complex, introduced by president of Curaçao Table Tennis Federation, Mr. Napi Boekhoudt.
The project is done in a professional way, which will definitely enhance the training program, especially for the youth, said Mr. Boekhoudt. When everything is settled, it was agreed in advance that the launching of all these facilities will be coupled to an ABC Tournament with participation of Aruba, Bonaire and Curaçao.
Last weekend the launching took place, whereby in a ceremony speeches have been given by the acting Consul General Mr. Xue Shan and the president of the Federation, Mr. Boekhoudt. At the end of the ceremony Mr. Boekhoudt, on behalf of the federation, handed to the consul a plaque as token of appreciation.
The federation with its own venue of already 30 years can proudly say that with these it can go along with enough sustainability for many more years. "And the local communities could benefit from the new facilities and enjoy the fun of table tennis," said Mr. Boekhoudt.
After the ceremony, the tournament was officially called open by the acting Consul General Mr. Xue. The tournament was played on Friday, Saturday and Sunday in 2 categories: the Senior and the Master. In the most important category, the Senior, Dimitri Leon from Curaçao won the title by defeating Andy Gomez from Aruba 4-2. In the Master category which is for players of 50 years and older, the final was between 2 Aruban players, whereby Franklin Lopez won from Alfred Leong 3-0.
Comments
comments
https://www.cttb.net/wp-content/uploads/2019/06/foto-crop.png
350
684
Napi Boekhoudt
http://www.cttb.net/wp-content/uploads/2015/02/ftmk-cttb-logo.png
Napi Boekhoudt
2019-06-21 13:35:16
2019-07-03 22:22:46
The Chinese Consulate General Donates to the Curaçao Table Tennis Federation