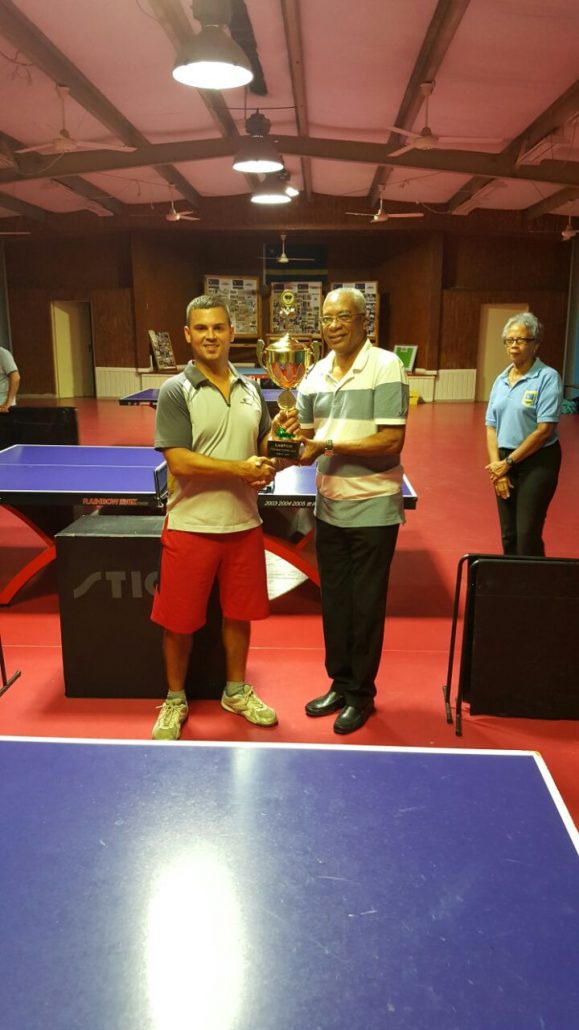 Tuesday February the 21st FTMK had her first event of the year. As it has become a tradition also this year it was the Donic Tournament, which started the 2017 Calendar of Event. At 8.00 at Sala Rekreo Irene Moreno with an amount of 17 inscriptions the games started based on the official knock out system.
There were some tough matches to be mentioned. Especially Jaysron Mathilda had it very tough with his two opponents. He had to fight to come back from a 0-2 deficit against both Erwin Sophia as Henny Metry in a best of 5 match.
Finally it was Jaysron who reached the final against a Dimitri Leon who did not have any problem against his opponents. The best of 7 final match had a very promising start for Jaysron this time as he took a 3-0 head start. In the 4th game Jaysron had even a match point by the score of 10-8 but he lost this emotional game 12-10. It was obvious that Dimitri took over the momentum, while Jaysron was running out of gas. Finally Dimitri won the tournament 4-3. Frank Mathilda handed over the trophies and he made the announcement that next year his organization Donic will be celebrating her 30th anniversary.
Comments
comments
https://www.cttb.net/wp-content/uploads/2017/02/IMG-20170222-WA0004.jpg
1280
720
Napi Boekhoudt
http://www.cttb.net/wp-content/uploads/2015/02/ftmk-cttb-logo.png
Napi Boekhoudt
2017-02-27 00:39:18
2017-02-27 01:00:25
Dimitri won the Donic Tournament 2017 in an exciting final match