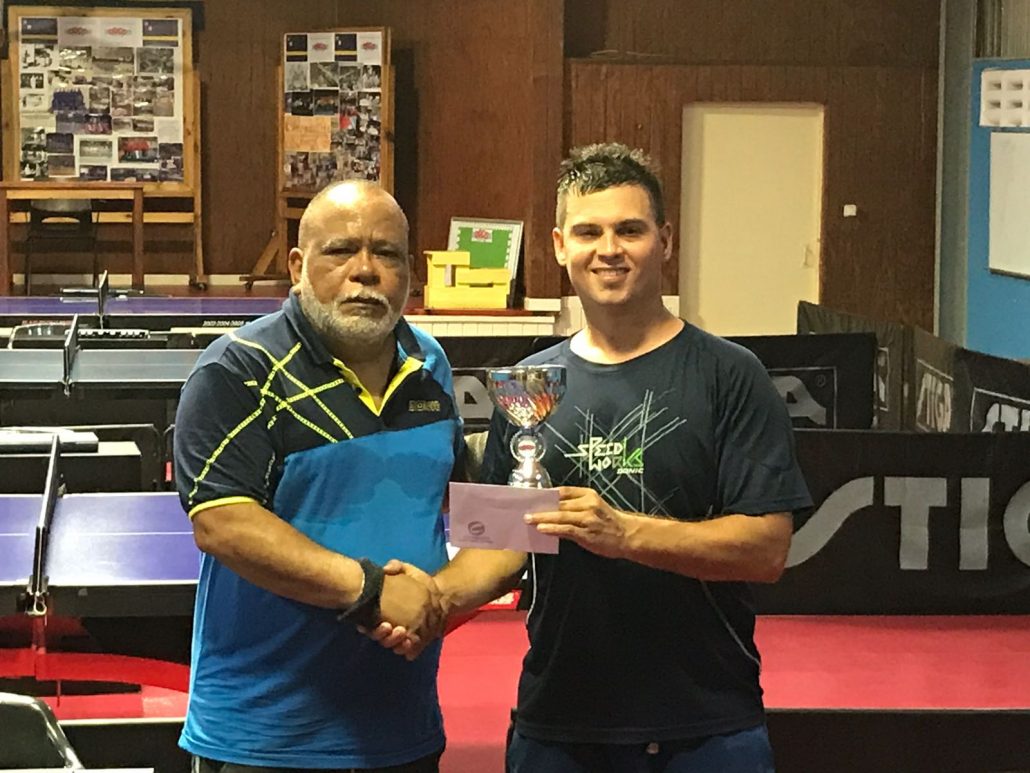 As the Curacao Table Tennis Federation continues with its activities, last Tuesday Oscar Salas Tournament was scheduled. With 19 inscriptions, this yearly presented event by the family Salas started at 20.00 in our sport arena Sala Rekreo Irene Moreno. There were among the 27 matches in the preliminary round some very interesting and tight games. In one of the 4 groups the amount of sets won between Cath, Lucien and Eric had to be counted as Cath won from Eric and lost against Lucien, while Lucien lost from Eric. Finally Lucien went further to the quarter finals with the best differential outcome.
The results in the quarter finals were as follow:
Dimitri Leon vs Giancarlo da Costa 3-0 (11-8, 11-7, 11-5)
Sigmar Carmelia vs Raymond Begina 3-0 (11-8, 12-10, 11-7)
Henny Metry vs Ravi Rajwani 3-1 (11-8, 11-3, 6-11, 11-4)
Michael Dalnoot vs Lucien Alberg 3-0   (11-7, 11-5, 11-5)
The semi finals:
Dimitri Leon vs Henny Metry 3-0 (22-20, 12-10, 11-8)
Michael Dalnoot vs Sigmar Carmelia 3-1 (11-4, 12-10, 4-11, 11-6)
The final between Dimitri and Michael did not finish, as Michael did not feel good and had to leave the game after losing in set 2-0.
Comments
comments
https://www.cttb.net/wp-content/uploads/2018/04/IMG-20180425-WA0016.jpg
1200
1600
Napi Boekhoudt
http://www.cttb.net/wp-content/uploads/2015/02/ftmk-cttb-logo.png
Napi Boekhoudt
2018-04-30 15:01:57
2018-04-30 15:01:57
Dimitri second year in a row winner of Oscar Salas Tournament