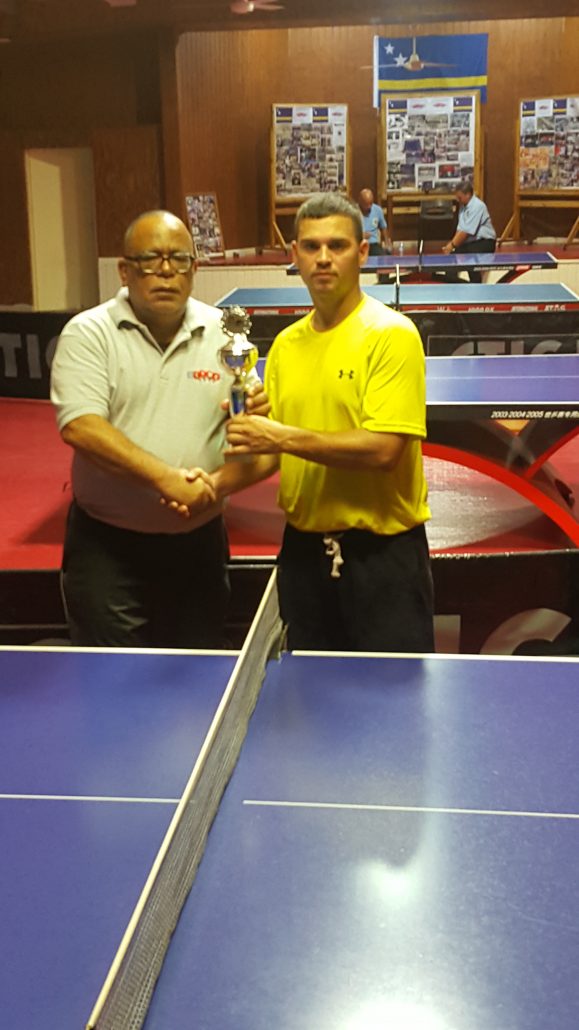 Last Tuesday April 11th, a record amount of 20 players showed up for the annual tournament Oscar Salas. Knowing that this is valuable for the ranking did make this Oscar Salas Tournament a bit more interesting. This amount of 20 was the same amount we had last year in this same tournament, which is a pleasant note for Salas Sport Shop, sponsoring this event.
As the winner in 2015 and 2016 were respectively Sigmar Carmelia and Devon Meilink, while Dimitri Leon was in both the runner-up, this time Dimitri came with one thing in mind: winning this Oscar Salas Trophy this year.
After winning his 3 previous matches with no problem at all 3-0 to reach the final, others had to fight out their way. It was Michael Dalnoot, who had some tough nuts to crack. He had to play to some tight matches against Henny Metry and Devon Meilink, winning both 3-2.
So the final match was between these 2 first ranked players. Dimitri won finally in a very interesting match with good table tennis 4-2 with the partials 8-11 / 11-8 / 11-5 / 9-11 / 11-9 / 11-4, making his position, as the current no 1 ranked player, stronger.
Comments
comments
https://www.cttb.net/wp-content/uploads/2017/04/20170411_233422-e1492133226955.jpg
5312
2988
Napi Boekhoudt
http://www.cttb.net/wp-content/uploads/2015/02/ftmk-cttb-logo.png
Napi Boekhoudt
2017-04-14 01:43:03
2017-04-14 01:50:57
Dimitri claiming this title